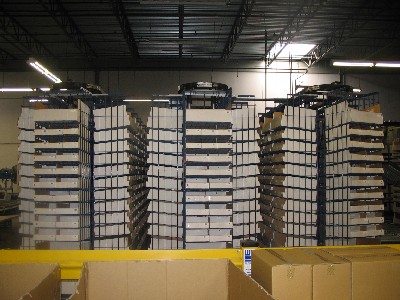 Quality Rebuilt Carousels™
For over 20 years, AS/R Systems has been rebuilding and integrating horizontal carousels & vertical carousels from major manufacturers, such as White Systems, Kardex-Remstar & Diamond-Phoenix, throughout Canada, the United States, and Mexico. Our 45,000 square foot carousel rebuilding factory in Smiths Falls, Ontario (only 3 hours from the GTA and Toronto) combined with our second facility in Ridgeland, South Carolina outputs hundreds of Rebuilt Carousels™ annually and supports our current installation base with parts, service, and engineering support.

Unlike used equipment, AS/R applies rigid standards for all aspects of removal, rebuilding, and installation. This ensures quality Rebuilt Carousels™ that are far less expensive than new. We guarantee "Like New" quality and "Like New" functionality by providing the industries only "Like New" warranty, backed up by the industries only aftermarket national parts and service operation. AS/R's large inventory of stock components allows us to produce most rebuilt systems in an industry-best four week lead-time.
Automate your Operation
Optimizing warehouse space and picking performance are just some of the benefits that horizontal carousel and vertical carousel systems provide. Traditional picking scenarios require the operators to walk to a location directed by a pick ticket or handheld, pick and confirm the item, place it on a cart and send to shipping. Performance expectations vary for each individual operation, however typical lines produced per operator are limited by the time it take for the operator to walk to the location, pick the product, confirm or scan the item, & place it onto the pick cart. Automated carousels eliminate the walking time, searching for a location, deciding how many items to pick, and presents each unique location once in a batch of orders.
Benefits of Rebuilt Carousels
Carousel systems provide a powerful method for presenting materials when picking small parts. Benefits include:
Decreased "touch" time per pick transaction
Reduced order processing time
Reduced space requirements (vs. shelving systems)
Increased capacity within existing building without expensive construction
Increased accuracy
Reduced order verification costs
Streamlined handling
Rebuilt, not just sold as used or refurbished
In any scenario, horizontal or vertical carousels can reduce labor requirements, reduce handling and make possible more accurate order filling.
Carousel Inventory
With locations in the U.S.A and Canada containing over 60 horizontal carousels in stock, AS/R can deliver complete carousel systems with minimal lead-time. Custom specifications are fabricated in-house by our experienced staff to obtain the highest level of quality control suiting each customers individual requirements. AS/R's extensive experience in the carousel rebuilding process allows us to cater to any clients needs.